FREE Residential Construction Inspection Checklist Forms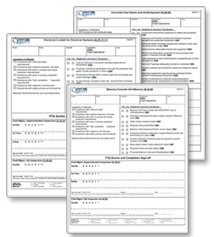 For residential trade contractors and homebuilders.
What you will get
You'll receive 20 ready-to-use inspection forms with checklists and 1 customizable generic inspection form template. Ready-to-use forms are for the following residential trades:
Framing
Electric
HVAC
Plumbing
Drywall

Trim
Carpentry
Paint
Flooring
And more..
Commercial/Industrial Inspection Forms w/Checklists
You may also be interested in our industry-specific commercial/industrial inspection forms available for the Master Spec Divisions listed below.
Inspection form packages are included with our construction quality control plan templates or as part of the FTQ360 Inspection System. Click on this link for sample inspection forms and a List of Available Contractor Inspection Forms.pdf.
Inspection Forms, Tests, Codes, Standards, Certifications & Qualifications are available for: