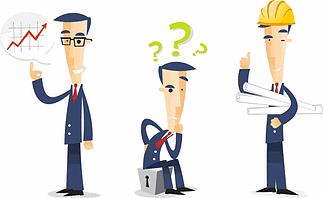 A project quality plan is a written plan that details how you will manage quality on a specific construction project.
This is different from a company quality manual, which explains your quality policies and procedures in general, but not with information specific to each project.
Clients may ask for project quality plans in different ways. One way may be that your contract says you need to submit a quality control plan. Another way may be that your client comes out and asks for a project quality plan.
In most cases, everyone wants the same thing: your project quality plan, company quality manual, and standard operating procedures.
Below is a list of questions your project quality plan should answer. Underneath each question, I've listed form(s) you can include in your plan on which to give your answers (e.g. the information your client wants).
Project Quality Plan
Who's on the project quality management team?
What makes them qualified to be there?
Appointment Letters defining the responsibility and authority for each team member's position
Personnel Qualification Form verifying the capabilities of each team member and who approved them
Resume for each team member
What training will you provide to make sure your people have the necessary skills and knowledge for this project? Will you train your customer on operations and maintenance? This should include quality system, quality procedures, and the technical training.
Training Plan indicating the training and who has received it
Who are the points of contact for the project?
How will you make sure all quality-related information gets to the people that need it?
What documents, reports, and records will you submit, by when, and to whom?
Project Submittals Schedule and Log
Project-Specific Standards
What regulatory codes and industry standards apply to this project?
Project Regulatory Codes and Industry Standards Form
Project-Specific Inspections and Tests
What inspections and tests will you conduct for this project? How will you record each inspection and test?
Quality Controlled Construction Task Form
What measuring devices need calibration and how often?
Measuring Devices Calibration Form
Project Purchasing
What credential and resources do your key subcontractors need such as licenses, insurance, production capacity? Also, how do their quality programs meet your requirements?
Subcontractor and Supplier Qualification Form
Who are your qualified suppliers and what materials will they supply?
In Conclusion
Clients are concerned about how you will manage quality on their projects. Addressing project-specific, site-specific and contract-specific requirements in your project quality plan is how you will comply with their requirements.
However, project quality plans are limited in scope. So, make sure to also spend time developing your company-wide quality policies and procedures and include them in your quality manual.
About the Author - Ed Caldeira is founder of First Time Quality, LLC, specializing in submittal-ready construction QA/QC plan templates and custom quality plans as well as construction quality inspection and punchlist software.