Free Correction Plan Template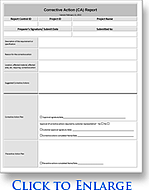 Fill out the form on the right and download your Free Correction Plan Template.
What you will get
You'll receive one Corrective Action Report Form as a PDF.
For a complete library of forms
Choose one of our submittal-ready construction quality control plans.
They include a complete library of easy-to-edit, ready-made quality control documents, forms, and templates.
Learn More
Download a Sample Construction Quality Control Plan and see what you'll get in each section of our templates. Or contact us at 410-451-8006 and we'll answer all of your questions.