Utility Construction Quality Control Plans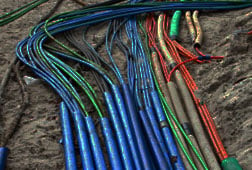 Utility Construction Industry-Specific Information
Utility Construction quality control plans include 24 inspection forms w/checkpoints from CSI Divisions 31, 32, and 33 - Earthwork, Exterior Improvements, and Utilities. And, include policies for compliance with AWS, AWWA, ASTM, UBPPA, and ACPA regulatory codes and standards.
From simple to comprehensive
Fully-written templates range in size between 30 pages and over 200 pages. And are available commercial/industrial and government projects including USACE/NAVFAC, FTA-DOT, DOE, FHWA,or other government agencies as well as ISO 9001 and ISNetworld requirements.
Standard Features Include:
Fully-written - No writing required
Use on Multiple Bids/Contract Submittals
Based on your contract and company needs
Personalized with your name, logo & project info.
Compliance to Government, Industry, and/or ISO 9001 construction QA/QC requirements
Based on your contract and company needs
We'll assemble a Utility Construction quality control plan based on your contract specifications and personalize it with your company, project, and scopes of work information. See template personalization for more information.
If you have very complex or non-standard requirements, we offer customization services. We can add additional writing or customize your plan when needed. See Pricing and Plans for more details.
Personalized Plans or Instant Download available.
Personalized plans include your company logo, company name and project name and make a very nice, professional presentation.
If you don't mind adding your own company name, logo, and personnel/org. chart, you can purchase the document from our online store with a 10% discount. Here is a link to the online store page.
Learn More
Download a Utility Construction Quality Plan Sample, and see what you'll get in each section of your quality control plan template -
Don't want to download a sample, contact us at 410-451-8006 and we'll answer all of your questions.
See why hundreds of companies, both large and small, trust us for the QA/QC and safety solutions.