Construction Nonconformance Report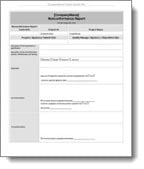 You can use this nonconformance report form to record a nonconformance and record your course of action.
The completed nonconformance report becomes your nonconformance record.
You can download a nonconformance report template by filling out the form on the right.
Controlling Nonconformances
Written policies and procedures for controlling, correcting, and preventing nonconformances are included in our Quality Plan Templates.
For more information, download a Quality Plan Sample or contact us at 410-451-8006 and we'll answer all of your questions.