Environmental Protection & Management Plans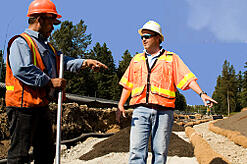 Fully-written Environmental Protection (EPP) and Management Plans, Programs, and Manuals meet all UFGS-01 57 20.00 10 Environmental Protection requirements. Good for both military and non military projects.
Establish an organized structure for managing environmental protections during construction.
Environmental Protection Plans and Manuals include:
Guaranteed compliance with UFGS-01 57 20.00 10 Environmental Protection requirements
Good for Military and Non-military Projects
Complete with Environmental Risk Analysis (ERA) Forms
Receive Expert Advice and Support
100% Satisfaction Money-Back Guarantee
Plans, Programs, and Manuals Cover:
Protection of Water Resources
Protection of Land Resources and Erosion Control
Protection of Air Resources
Protection of Fish and Wildlife Resources
Stormwater Management
Also Includes Additional Supporting Plan Templates for creating:
Traffic Control Plan
Borrow Location Plan
Waste Management Plan
Pesticide Treatment Plan
And More...
Easy for your contracting officer to approve
Your Environmental Protection Plan follows UFGS-01 57 20.00 10, and provides the details that your Contracting Officer expects in a well-formed environmental protection plan.
Personalized Plans or Instant Download available.
Personalized plans include your company logo, company name and project name and make a very nice, professional presentation.
If you don't mind adding your own company name, logo, and personnel/org. chart, you can purchase the document from our online store with a 10% discount. Here is a link to the online store page.
Learn More
Download an Environmental Protection Plan sample and find out what you'll get in each section of your plan. Don't want to download a sample? Contact us at 410-451-8006 and we'll answer all of your questions.