HVAC Industry Information and Inspection Forms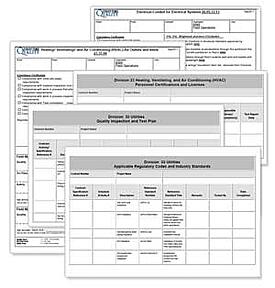 As part of your template, you'll receive electrical-specific information and a set of inspection forms for MasterSpec Division 03.
HVAC-specific Information includes:
HVAC Inspection Forms w/check lists
Completed Electrical Inspection and Test Plan Example
Electrical Industry Codes and Standards
Electrical Personnel and Company Certifications & Qualifications

No additional charge
HVAC-specific information and inspection forms are included with your submittal-ready Quality Plan Templates at no additional charge.
Personalized Plans or Instant Download available.
Personalized plans include your company logo, company name and project name and make a very nice, professional presentation.
If you don't mind adding your own company name, logo, and personnel/org. chart, you can purchase the document from our online store with a 10% discount. Here is a link to the online store page.
Learn More
Fill out the form on the left, and Download a sample. Or Contact Us and we'll answer all of your questions.