Simple Construction Quality Control Plans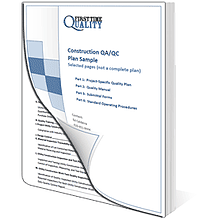 Simple Construction Quality Plans for general and specialty contractors — cover all the essential elements of a well-formed QA/QC Plan without a lot of added detail.
Based on your requirements
All Simple "Essentials" Quality Plans costs $295, but NOT all essentials plans are the same. Your plan will be based on your requirements. So, if your specification require more, we'll add additional forms and sections.
Standard Features Include:
Fully-written - No writing required
Use on Multiple Bids/Contract Submittals
Based on your contract and company needs
Personalized with your name, logo & project info.
Compliance to Government, Industry, and/or ISO 9001 construction QA/QC requirements
Expert advice and support
Includes Industry and Trade-Specific Information
100% Submittal Acceptance Guarantee
100% Satisfaction Money-Back Guarantee
Click here for more details...
Personalized and Professional Looking
Your Essentials Quality Plan will be personalized with your company logo, company name and project name make a very nice, professional presentation.
This plan is fully-written, about 30 pages long; It includes an executive QA/QC plan overview, a project-specific quality plan, and submittal forms.


Personalized Plans or Instant Download available.
Personalized plans include your company logo, company name and project name and make a very nice, professional presentation.
If you don't mind adding your own company name, logo, and personnel/org. chart, you can purchase the document from our online store with a 10% discount. Here is a link to the online store page.
Not ready to order? — Learn More
Download Simple Essentials Sample, and see what you'll get in each section of your asphalt paving quality control plan template -
Or, contact us at 410-451-8006 and we'll answer all of your questions.
See why hundreds of companies, both large and small, trust us for the QA/QC and safety solutions.