Construction Inspection and Test Plan Templates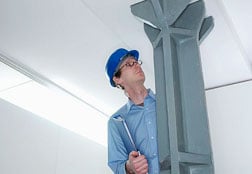 A construction Inspection and Test Plan is more than just a form listing inspections and tests. It's a plan that details how you manage your inspection and test process to ensure construction quality.
We've developed a comprehensive set of construction inspection and test plan templates for general contractors and subcontractors.
Template features
All aspects of a comprehensive Inspection and Test Plan
Inspection forms with checkpoints — available for widely used MasterSpec specification sections
A library of completed trade-specific inspection and test plan forms
Expert advice and support (30 min. phone/web review included)
100% Satisfaction Money-Back Guarantee
Based on your requirements
We'll assemble a template based on your contract specifications and personalize it with your company, project, and scopes of work information. See template personalization for more information.
Learn More
Download sample pages — Don't want to download a sample, contact us at 410-451-8006 and we'll tell you everything you want to know.