Accident Prevention Plans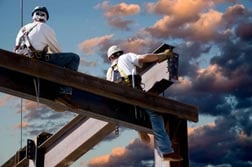 Basic or Comprehensive
For small to large projects, we offer fully-written Health and Safety/ Accident Prevention Plans that meet all USACE EM 385-1-1 Appendix "A" requirements.
For small projects, all you'll need is the site/project-specific EM 385 Accident Prevention Plan.
For larger projects (over $5 million), you'll need a coordinated safety manual to go along with your Accident Prevention Plan to establish an organized structure for managing your safety.
We offer two levels of plans based on your project and contract requirements.
Accident Prevention / Health & Safety Plans include:
Standard Features Include:
Fully-written - No writing required
Use on Multiple Bids/Contract Submittals
Based on your contract and company needs
Personalized with your name, logo & project info.
Compliance to USACE EM 385-1-1 Appendix "A" requirements
Easy for your contracting officer to approve
Your Accident Prevention/ Health & Safety Plan will follow EM 385 Appendix "A" format exactly. And, provides the details that your Contracting Officer expects in a well-formed safety plan.
Personalized Plans or Instant Download available.
Personalized plans include your company logo, company name and project name and make a very nice, professional presentation.
If you don't mind adding your own company name, logo, and personnel/org. chart, you can purchase the document from our online store with a 10% discount. Here is a link to the online store page.
Learn More
Download an APP/Safety Plan sample and find out what you'll get in each section of your template. Don't want to download a sample? Contact us at 410-451-8006 and we'll answer all of your questions.