Construction Quality Plan Details & Samples
Project Quality Plan

The information in your project quality plan will detail how you will manage and deliver quality on each specific project. View Table of Contents
Your First Time Quality template will include a fully-written project quality plan including such project-specific information as your Quality Control Organization Chart, quality personnel appointment letters, duties and responsibilities.

You'll complete a few forms to create a complete project-specific quality plan.
Quality Manual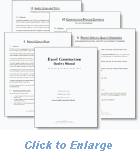 Your quality manual will explain your company's quality methods and policies.
You'll receive a comprehensive quality manual that provides enough detail to give your clients confidence in your QA/QC program, but we have been careful not to include details that would create more work for your operations people. View Table of Contents
Standard Operating Procedures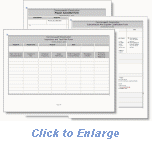 SOPs detail the work steps you use to carry out your quality methods and policies.
You'll receive a library of SOPs and their associated forms in your template package. View Table of Contents
Reusable Templates
Your personalized templates are easy to edit and come in MS Word format. Reusable for future projects, it's easy to add or remove section. The table of contents and page numbers will automatically adjust when you update the references.
You'll also receive a 30 minute phone/web review session to go over your plan and give you tips on how to customize it to meet your contract specifications.
Learn More