Construction Personnel Qualification Process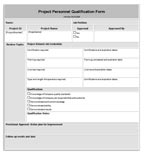 You can use this personnel qualification form to record qualifications for key QA/QC project personnel such as your project manager, quality manager, and superintendent.
The completed qualification form becomes proof of your formal qualification process and can be used in the future to show due diligence.
You can download a personnel qualification record by filling out the form on the right.
Qualifying Personnel
Written policies and procedures for qualifying personnel are included in our Quality Plan Templates.
For more information, download a Quality Plan Sample or contact us at 410-451-8006 and we'll answer all of your questions.