Contractor Quality Plans, Programs & Manuals + Inspection Forms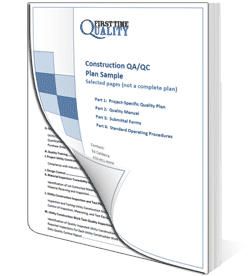 Comply with your specific requirements
Submittal-ready Contractor QA/QC plans, programs, and manuals are available to meet Civil/Commercial/Industrial, USACE-NAVFAC, FTA-DOT, FHWA, DOE, or other government agencies — as well as ISO 9001/ISNetworld construction quality standards.
Meet your company needs
Simple or comprehensive — you get what you need, guaranteed! Simple "Essentials" Plans are approx. 30 pages and Comprehensive Plans are approx. 125 pages. You'll also receive inspection forms for your divisions of work.

Inspection Forms, Regulatory Codes, Standards, and Qualifications
We have a large library of CSI Division-specific inspection forms and policies for compliance with specific regulatory codes, inspection and testing standards, and personnel qualifications.
We'll prepare your contractor quality control plan based on your divisions of work and either include the forms directly in your plan or include them separately so that you can choose what you need for each project.
Download a PDF List of ALL available inspection forms.
Project-specific and reusable on multiple jobs
You can easily edit and reuse your plan on multiple projects. We'll assemble your CQC plan based on your company and project requirements and personalize it with your company name, company logo, and project information.
See a Complete List of Features and Benefits for more information.
Some of Our Contractor-specific Plans