Improving Quality Using FTQ360 Quality Management Software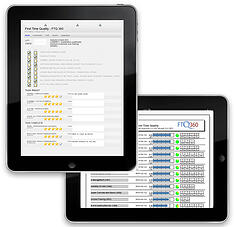 Is second time quality costing you money?
FTQ360 is a web-based software application for inspecting, communicating, and improving quality - first time quality.
Review checklists and do your inspections in the field using our mobile, touch-screen application.
How you will benefit
With FTQ360 you can:
Identify problem areas to reduce costs
Manage production processes to accelerate production times
Evaluate performance trends to eliminate risk
Translate customer needs into performance measures to increase customer satisfaction
Learn More
Download a Whitepaper and Sample Reports or click on the links below to find out more about FTQ360 Software.