Construction Quality Assurance & Quality Control Programs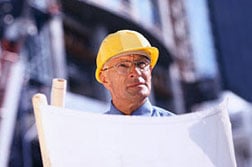 From simple to comprehensive
Fully-written Construction Quality Assurance and Quality Control Programs range in size from 30 pages to over 200 and are good for bid and contract submittals as well as company-wide quality plan improvements.
Based on your contractor type
Programs are available for general contractors, specialty contractors, and professional services companies. See Contractor Type for a list of specialty plans.
Comply with specific requirements
Your QA QC Program will meet your project requirements including general construction, USACE/NAVFAC, FTA-DOT, FAA, DOE, FHWA, or other federal, state and city government agencies — as well as ISO 9001.
Let us review your specs and determine the best plan to meet your needs. 100% Submittal Acceptance Guarantee

Standard Features Include:
Fully-written - No writing required
Use on Multiple Bids/Contract Submittals
Based on your contract and company needs
Personalized with your name, logo & project info.
Compliance to Government, Industry, and/or ISO 9001 construction QA/QC requirements
Expert advice and support
Includes Industry and Trade-Specific Information
100% Submittal Acceptance Guarantee
100% Satisfaction Money-Back Guarantee
Click here for more details...
What we do for you
We'll assemble a program based on your company and contract specifications and personalize it with your company name, logo, and project information.
If you have very complex or non-standard requirements, we offer customization services. We can add additional writing or customize your plan when needed.
Trade and Industry-Specific
Includes trade-specific inspection forms w/checkpoints, lists applicable codes, industry standards, credentials, and qualifications for the division work you do. Download a pdf List of available inspection forms.
Personalized Plans or Instant Download available.
Personalized plans include your company logo, company name and project name and make a very nice, professional presentation.
If you don't mind adding your own company name, logo, and personnel/org. chart, you can purchase the document from our online store with a 10% discount. Here is a link to the online store at www.firsttimequalityplans.com.
Not ready to buy yet? Learn More
Download Plan Samples, and see what you'll get in each section of your construction program - Or, contact us at 410-451-8006 and we'll answer all of your questions.
See why hundreds of companies, large and small, trust us for their QA/QC solutions.