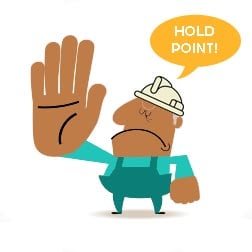 The "hold" in "hold point" refers to putting a hold on construction activities until an inspection is passed. Construction inspection hold points are particularly important when work cannot be inspected later because a problem could be covered up. For example, a hold point before a concrete pour permits verification of steel reinforcing before it is covered with concrete.
Hold points are also defined for critical inspections when cost of rework would be high if problems are found later. For example, don't start steel erection until the foundation inspection is complete because dealing with dimensional errors as steel is going up can be very costly.
Still other use of hold points is to enhance the level of control at specific construction milestones. Customers and code officials use this technique to assure that a phase of construction is 100% complete before moving on to the next. Everyone pays a lot of attention to resolving outstanding issues when the production schedule is held hostage. Quality assurance departments also use this technique to reign in production when they have a habit of not completing work before moving on to the next stage.
Hold points should be listed on inspection and test plans so everyone knows when a hold point is in effect. A hold status indicator should also be used to indicate when the inspection is passed. The code inspection 'green tag' is a well known example of a hold status indicator.
Properly used, hold points can be an effective tool to control production so that quality can be assured.
About the Author - Ed Caldeira is founder of First Time Quality, LLC, specializing in submittal-ready construction QA/QC plan templates and custom quality plans as well as construction quality inspection and punchlist software.