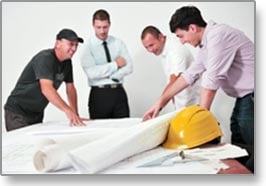 A communication plan will help you organize how you will create, collect, and distribute quality control-related information to your construction project quality team. I see a lot of projects where this planning isn't done ahead of time and everyone has to figure this out bit by bit as they go along. Quality communications are too important to be left to chance.
Types of Communication Methods
You may not recognize it, but (without planning) you are probably already including many standard communications methods in your day-to-day project activities. Communication comes so naturally and fortunately, common construction project activities are very good methods of quality control communications including:
Meetings
Status reports
Records and documents
Tool box talks
Submittals
Email/Text messaging
Phone calls
A Basic Quality Control Communication Plan
The best kind of communication plan is the one that describes what you would do anyway as part of your normal project activities. So to create a basic communication plan, let's start there.
A couple of points to keep in mind...
First, include a communication plan and a point of contact list in the project-specific section of your construction quality control plan. Often, it's a required element, but nonetheless, your client will appreciate knowing that you have your quality control communications organized and planned ahead.
Next, regardless of the type of communication, you should always have someone in charge of doing the communicating. I mention some specifics on this later in the article.
Also, you'll want to create a list of participants that you can identify by title or job position.
Finally, I find that an easy way to put a basic communication plan together is by projecting the natural sequence of communications that you would expect during your project.
Key Elements of a Quality Control Communication Plan
Here are some elements that I recommend you should include as part of your construction quality control communication plan.
Point of Contact List
Project Quality Organization Chart
Pre-Construction Meeting
Weekly Quality Control Meetings
Work Task Prepatory Meetings
Quality Control Record keeping
Measuring Quality
Reinforcing a Quality Culture
Point of Contact List
Even before the project begins, the Project Manager should create a point of contact list. The list should identify key quality personnel, their area of responsibility, and contact information. The list should also contain subcontractors and suppliers when they play a major role.
Project Quality Organization charts are also useful for helping people understand areas of responsibility. Make sure this information gets distributed to everyone on your contact list.
Pre-Construction Meeting
Key company quality personnel as well as subcontractors and suppliers should be at the pre-construction meeting. The Quality Manager can take this opportunity to communicate some important project quality information.
Here you will coordinate how project work will be performed and controlled. In particular, this is the time to talk about quality measures and the results that you expect. Go over your quality assurance and quality control policies and procedures. And, be sure to use the forum to reinforce your culture of quality and extend it to all stakeholders.
Regular Quality Control Meetings
Once your project is underway, the Quality Manager should hold regular quality control meetings to talk about how your project is going and to reinforce heightened awareness for critical quality control requirements. Also, remember to address any quality issues and follow-up on the corrective actions being taken.
The Superintendent, Project Manager, and a customer representative are 'standard' participants while guests can be invited for special discussions.
Choose a weekly, bi-weekly, or monthly meetings as the project needs dictate. After the meeting, send out a short email of meeting minutes that reminds participants of any to-do items.
Work Task Preparatory Meetings
Prior to the start of any new work task or phase of construction, your Quality Manager or Superintendent should hold a meeting to talk about work task-specific quality requirements and get everyone's expectations on 'the same page'.
Participants should include key company, supplier, and subcontractor personnel who are responsible for carrying out, supervising, or inspecting the work. It's also a good idea to include interested customer representatives so everyone can hear their concerns.
The most effective method I have seen for communicating critical specifications is through the use of Inspection Forms. Create an Inspection Form for each task and add checkpoints for each critical item.
In this way, whenever someone uses an inspection form they have heightened awareness for specific concerns. Add pictures and you can make it even better. Now, that is what I call a clear and consistent communication process!
Quality Control Record Keeping
There are several reports and records that you will want to keep and distribute as part of your quality control process including:
Daily Quality Control Reports
Inspection and Test Records
Nonconformance Reports
Quality Control Audits
Performance Reports
The Quality Manager should create a distribution list for these reports and include it as part of your communication plan.
Measuring Quality
Using some form of quality measurement is such a powerful tool for communicating the importance quality that I consider it a must for EVERY construction company.
If yours is like many other companies that don't measure quality, consider this: A basic tenant of management is to measure what is important. It follows that when management measures something it automatically communicates to everyone its importance.
The Quality Manager should propose how to measure quality as part of the communication plan. Some items to consider are scoring quality during routine inspections, measuring number of failed checkpoints, and customer satisfaction.
Reinforcing a Quality Culture
Every project has a new cast of players that create a culture of quality, good or bad, for a project. Your mission is to guide that culture to one of first time quality (quality done right the first time).
It may be a culture shift in varying degrees for everyone. However, because culture does not change overnight, communicating your vision must be done early and often, using every means available.
Consider giving a presentation on quality control to each of the various departments. Posters, newsletter articles, and open meetings all serve to instill a quality culture in your extended organization.
Put it on the agenda for meetings. The Quality Manager should itemize actions that your quality team will take to foster a culture of quality. Of course, make sure to include these actions in your communication plan.
In conclusion
Plan ahead to use your regular project quality control activities to coordinate and communicate quality related information. Identify the people and ways you will create, collect, and distribute quality control-related information to your construction project quality team. And, write this all down in a communication plan.
***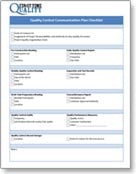 Download your FREE Communication Plan Checklist and begin your next project off right. After all, good communication can mean the difference between a successful project and one that gets out of control.
Have any comments or insights you would like to add to this conversation? Leave a comment below. I look forward to hearing from you.
About the Author - Ed Caldeira is founder of First Time Quality, LLC, specializing in submittal-ready construction QA/QC plan templates and custom quality plans as well as construction quality inspection and punchlist software.