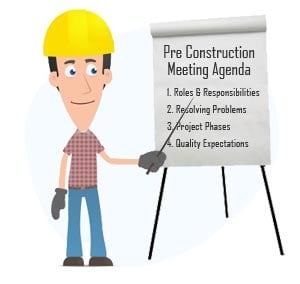 Quality, safety, scheduling, administrative issues and, above all, how to keep your customer satisfied. These are the principal reasons you should hold a pre-construction meeting. A well-structured pre-construction meeting helps ensure that your project proceeds smoothly. It also eliminates confusion and ruffled feathers when you're faced with the inevitable issues that arise during a project.

For this discussion, we'll focus on handling the QA/QC part of your preconstruction meeting. I'll give you a few general guidelines, and then discuss the key topic areas you should cover.
If you're creating a quality control plan, you should reference how you use your preconstruction meetings as part of your QA/QC procedures.
To give you an idea, we include a section on pre construction meetings (also known as project startup meetings) in the Process Controls section of our ISO 9001 Quality Management Plans. In our simpler Essentials Quality Control Plans we discuss the topic in the Project Coordination and Communications section. And, in our comprehensive Construction Quality Control Plans we include some discussion in both areas.
General QA/QC Pre Construction Meeting Guidelines
Set an agenda
Set an agenda and give everyone a copy ahead of time. Defining the lines of communication, the coordination of inspections, the handling of nonconformances and the chain of command are all items you should include on your agenda.
Although in many cases these topics can be handled as your project progresses, the pre-construction meeting is your chance to handle these important issues in a more formal, less haphazard and less painful way.

If your client prefers to run the meeting, you and your client should talk beforehand to ensure that your agenda items are covered.
Involve key players
Make sure to involve all the key QA/QC players including sub-contractors, the project owner, managers, and representatives. And, try to conduct the meeting so that all of your participants have a voice.
You can keep a flip chart and write down the ideas and comments being discussed. This will keep your meeting focused and let your participants know that their voices are being heard.
After the meeting, send the minutes (including your talking points) to each individual.
5 Key Topic Areas to Cover
1. Establish QA/QC roles and responsibilities
A person might be a quality manager at his company, but that title could mean a different function for this project. You should be sure each individual is clear on his or her role and the project quality responsibilities that go with that role.
2. Define problem solving procedures
How will you handle problems? Issues will arise; they always do. Your preconstruction meeting is when you should clearly define the procedures you want followed for resolving them.
For example, in the case of nonconformances, what is the chain of command you want followed for bringing them into spec. In other words, once your superintendent or inspector finds a non conformance, who determines the disposition, who gets the go-ahead from the owner to proceed, etc.
3. Develop a schedule for regular project QA/QC meetings
Scheduling regular weekly or monthly meetings to discuss quality issues, status reports, or anything of an administrative nature is something you can discuss at your preconstruction meeting. You should set ground rules for these meetings, establish when and where they will be held, and who should attend.
4. Coordinate prepatory meetings
After you break the project into phases, set an agenda for holding a prepatory meeting before each new phase begins. During these meetings, you'll want to coordinate how each participant will handle his or her role including establishing "job-ready" requirements, conducting reviews of specifications and inspection and test results.
Your prepatory meetings are the time to emphasize possible quality problem areas. Let's say you're concerned with the flatness of a foundation. Treat these possible problem areas like a specification and perhaps even itemize them on an inspection checklist.
Your prepatory meetings are ideal forums for identifying and preventing quality issues of concern. So, use your pre construction meeting to let everyone know to allot time for the prepatory meetings during the project.
5. Establishing quality expectations
Establish your quality philosophy and policies of the project. Perhaps your focus is on first-time quality. In that case, you want to state your expectation that work be done right the first time rather than depend on inspections to locate problems.
The pre-construction meeting is your opportunity to reinforce a shared philosophy that everyone is part of a team focused on different quality roles to complete a successful project.
Conclusion
Setting an agenda, facilitating a discussion between all key players, and coordinating quality assurance and quality control reviews will ensure that your preconstruction meeting sets the course for a successful project.
Take the time to plan ahead and get all of your key quality personnel involved.
About the Author - Ed Caldeira is founder of First Time Quality, LLC, specializing in submittal-ready construction quality control plans as well as construction quality inspection and punchlist software.