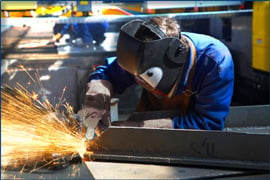 We're pleased to announce the release of a new welding and steel fabrication quality plan suitable for steel fabricators and erectors, pipe fabricators, and piping and pipeline companies.
Our new welding quality plans are also good for companies that use certified welders and certified welding inspectors and must meet AISC Certification requirements.
Welding and Steel Fabrication quality plans feature policies, procedures, and forms for conformance with AWS, ASTM, ASME, AWWA, and NFPA Regulatory Codes Including:
ASME B31.1 for Power Piping, ASME B31.3 for Process Piping, and AWS D1.1/D1.1M for Structural Welding
Lot Controlled Materials and Heat Traceability Procedures and Forms
(33) inspection forms w/checkpoints from CSI Divisions 5, 22, and 23
Regulatory codes, industry standards, personnel qualifications, and inspection and testing standards.
Over the years, we've developed quality plans for over 45 different construction specialties. Now, we're using that experience to develop a series of specialty contractor quality control plans and programs that include more custom details.
Our new welding quality control plans are highly refined and address the unique needs of contractors that perform welding as part of their scopes of work.
Welding/steel fabrication plans are available to meet the same QA/QC requirements as our general construction quality plans including civil/commercial/industrial, USACE/NAVFAC, FTA-DOT, FHWA, Caltrans, FAA, DOE, and ISO 9001/ISNetworld.
You'll find a welding plan to meet your company and contract needs. Welding QA/QC Plans range in size from simple plans of approx. 35 pages to comprehensive plans of over 200 pages that meet rigorous ISO 9001 QA/QC standards.