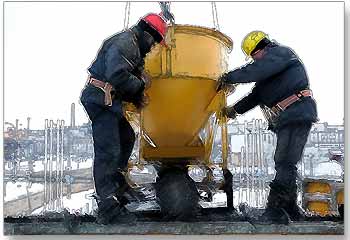 We're pleased to announce that we've developed a new set of concrete quality assurance and quality control plans, programs, and manuals. Our new concrete quality QA/QC documents are specifically designed for concrete contractors and general contractors that self-perform concrete construction tasks.
Features include:
Policies and procedures for compliance to ASTM, ACI, and AWS regulatory codes and standards
(7) CSI Division 03 Concrete Inspection Forms with checklists
Concrete Quality Control Reports and Record Keeping Forms
We know the concrete business
Ed Caldeira, company founder and developer of First Time Quality quality plans and software, has worked directly with concrete contractors, redi-mix plants, and additive manufacturers to help them develop better quality controls for batching, delivering, placing and finishing concrete. Thus, with Ed's background and expertise in quality, he's been able to develop several different types of quality plans (depending on the level of detail needed) specifically for concrete contractors.
Choice of plans and manuals
We've created different plans and manuals based on the level of detail you and your client want and the requirements you need to comply with. Plans include:
Basic and Comprehensive plans available for civil, commercial, and industrial construction projects
Specialized plans available for government projects including USACE/NAVFAC, FTA-DOT, DOE, FHWA and other agency standards
Highly Detailed Plans available for ISO 9001 and ISNetworld certifications
The plans come packaged with personalized logos, company name, and other customized information throughout the documents and are available in sizes ranging from 30 to more than 200 pages.
The cost remains comparable to more generic quality plans found elsewhere. The plans can be used on multiple bids and contract submittals and include concrete-specific inspection forms along with expert advice and support.
Inspection Forms with checklists
All quality document packages include a set of CSI Division 03 Concrete Inspection Forms with Checklists. If you do work in other divisions, we'll included inspection forms for those as well.
Specific for concrete tasks
Our new quality plans are designed for contractors working with concrete pavement, concrete structures, concrete flatwork, and concrete foundations.
For contractors working with concrete block, concrete masonry units, or concrete pipe, we have
masonry quality control plans
and
utility contractor quality control plans
.
Download a sample from our Website at:
www.firsttimequality.com/download-concrete-quality-control-plan-sample/
See our other contractor quality plans. For a complete listing click here
For more information: Contact Ed Caldeira at 410-451-8006.