Here's a general contractor quality control plan best- practice: include a subcontractor and supplier qualification process in your quality control plan.
I realize that for most GCs selecting qualified subcontractors is such a natural part of construction management that following a formal qualification process is often overlooked until … your subcontractors don't deliver on quality.
Then, you have to answer the hard questions: "What made me think they could do the job?" and "Why did I approve them? "
Following a process to qualify subcontractors and suppliers BEFORE contracting out the work:
Helps projects run on-time and on-budget – by hiring subcontractors and suppliers with proven track records
Gives your clients more confidence in you – by showing your clients that you have a formal qualifications process documented in your general contractor quality control plan
Lowers liability – by having a record of licenses and evidence of demonstrated capabilities
Provides clear management guidelines – by understanding which subcontractors can manage their own quality and which ones need to work only under your quality control system
Raises your level of professionalism – by following an industry best-practice and including your subcontractor and supplier qualifications approach in your construction quality manual along with a review form and a procedure on how to use it
Tips for a simple and effective subcontractor qualification process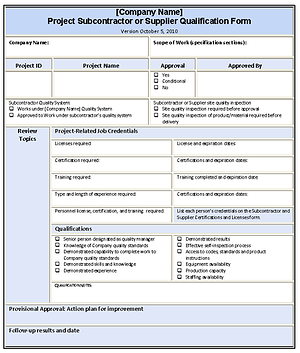 Use a Subcontractor Qualification Review Form. The single most important item you can do to protect you company is to keep a record of your reviews. The form provides structure to make sure you assess key elements like licenses, evidence of demonstrated capabilities, and quality controls. For critical contractors, observe facilities and/or prior work as appropriate for validating their capabilities. The Quality Manager should sign approval of each subcontractor.
Provide for Different Levels of Quality Control Qualification. When a subcontractor has quality controls that meet project requirements, you can qualify them to manage their own quality. On the other hand, when the subcontractor does not have good quality controls, you should qualify them to work only under the direct control of your quality system.
Allow for Provisional Qualifications. If you find that the company under review is qualified with exceptions, approve them with restrictions until the deficiencies are corrected. For example, an electrical contractor may proceed with wiring, but must obtain manufacturer certification before installing equipment.
Require an Approved Qualification Form Before Awarding Subcontracts. This ensures that you award subcontracts only to qualified companies. If there are provisional qualification requirements, you should add the requirements to the contract specifications.
Improving your general contractor quality control plan to include a formal approach for qualifying subcontractors and suppliers is definitely worth the effort. Of course, you'll have to follow that approach for every project, but it can save you money, help you win new bids, and manage projects better. Even if issues arise with qualified subcontractors and suppliers later on, you can demonstrate that you had selected them with sound judgment.
About the Author - Ed Caldeira is founder of First Time Quality, LLC, specializing in submittal-ready General Contractor Quality Control Plan templates and custom quality plans as well as construction quality inspection and punchlist software.