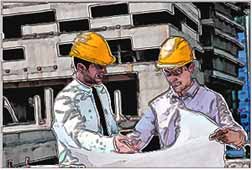 There are lots of activities that quality managers need to be doing. But, near the top of the list are regularly scheduled construction site quality control reviews in the form of field walks. The reason you should do these QA/QC reviews is to perform an independent check-up on the quality of your constructed product.
Looking at reports won't give you the same information you'll get from being in the field – doing your own assessments. It's a layer quality control you can't afford to skip. Remember to include your job site quality assessment as a procedure in your construction quality assurance plan.
I'll take you step-by-step through a structured QA/QC job site review. I'll also show you how to sharpen your focus to better use your time. By following my structured approach, you can gather more information in less time.
So, let's take a look at the overall strategy for doing your field walk.
Quality Manager's QC Review Strategy
The key point to keep in mind is that you're not on-site playing the role of an inspector. Inspectors take a more detailed look at each of the areas they're inspecting.
You, on the other hand, will look at a sampling of specific qa/qc related areas — enough to give you confidence that the your project is in order. Then, only when something doesn't check out do you begin to dig deeper.
That being said, you will still need to verify that the work you're reviewing conforms to the project standards and specifications. So, plan to have the specs and drawings handy.
During your visit, make notes of what you've assessed and inspected as well as your findings.
Your notes provides a record of due diligence that could protect your company should anyone question your project oversight.
Here's the way I suggest you proceed:
1. Before Your Scheduled Review
First, invite your customer to join you. You can use this time to understand his or her concerns and address any issues or misunderstanding before they become a problem. In the process, your customer will see how thorough you are at protecting their interests.
Next, let your field personnel know you're coming. Your job site review is not meant to blindside anyone. You want them to see what you see so you can guide them to success. Remember that you are there to help your field personnel be successful.
2. Upon Arrival
When you arrive, check-in at the construction office. Say hello, but get out to the job site as soon as possible. It's a good idea for the superintendent to accompany you on your quality control review. So that he or she can fill you in on any current project challenges.
3. First Look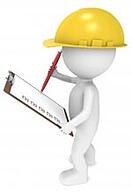 First, walk around the whole job site to get a general understanding of what's going on. See what work was recently completed and what work is underway. This will help you formulate your agenda.
Make a list of the tasks that were completed since your last visit and those in progress now. These completed and in progress tasks are what you'll be assessing during this visit.
You don't have the time to review every detail of every task. Use your time wisely and focus on the most critical and/or risky areas. What might those be? Jot them down.
4. Assess Completed Work
Now it's time to dig a little deeper. First up is the work that's been completed since your last QC jobsite review.
Review each of the completed tasks in this manner:
Survey the overall task – making sure the full scope of work has been completed.
Look at the most important details – such as plumbing leaks that you know have caused problems in the past and could be very costly to fix later.
Verify whether the work meets specifications – from a construction quality control point of view, this is the most important question you can answer in your entire field walk.
5. Monitor Work in Progress
Checking work in progress allows you to correct issues now before they create larger challenges. Plus, you can prevent repeating the mistake as work continues (think correcting 1 or 2 improperly sealed ducts verses a whole project's worth).
Monitoring work in progress not only lets you find, fix, and prevent repeat occurrences, it also lets you get the crews trained on the right way to complete the task as well as fix the deficiencies already created.
Pay particular attention to details that are different on this project from other projects. For example, if the architect specifies roof flashing with a new flex barrier, check to make sure workers aren't installing old style flashing.
6. Examine Materials and Equipment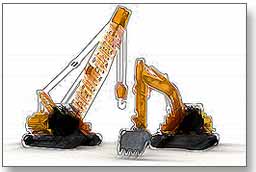 Make certain the right materials are being used. This is easier to do while the work is under way than after work has been completed.
Just look around the job site for discarded product packaging such as sealants, paints, and welding materials. It will be clear what materials are being used.
Moving on to your equipment review – you can't get quality work without good tools and equipment. When you come across a piece of equipment, take a closer look at capacity and condition. For example, cranes or welding equipment, check out:
Is it the right type?
Does it have the rated capacity?
Is it in the condition necessary to carry out quality work safely?
7. Review Material Controls
Job sites are large chaotic areas with a lot going on. It's easy for unapproved/uninspected materials to get mixed in with those ready to be used. As part of assessing quality, there are some key indicators to look at.
Have received materials been inspected before use?
Can you tell what's been inspected and what hasn't?
Do you see a tag, marking, or easily observable 'QC Inspected' indicator on all material that has passed inspection.
During your walk, look specifically for materials like steel, that are staged for use. A sure sign of a problem is if you don't see a 'QC Inspected' mark.
8. Your Departure
I recommend sharing your notes with field personnel before you leave. It's an opportune time to address any issues with a corrective action plan.
Conclusion
In the final analysis, taking a structured approach to your job site construction quality control review has many benefits.
You'll send the message that quality – doing the job right the first time – is important.
It serves as a selling point in attracting new clients. You can show clients your standardized approach to your job site QA/QC plan and precisely what you will do.
And, of course, your QA/QC field walk will assure the construction quality results that you expect – with the least amount of time and cost.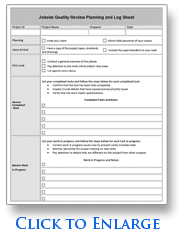 Click on the link below to:
Download your FREE Construction Site Quality Control Review Sheet.
About the Author - Ed Caldeira is founder of First Time Quality, LLC, specializing in submittal-ready quality plan templates and custom quality plans as well as construction quality software.