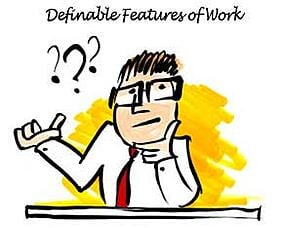 For all U.S. Army Corps of Engineers (USACE) and Naval Facilities (NAVFAC) Government projects, you'll need to provide a list of your
Definable Features of Work
as part of your
USACE Construction Quality Control Plan
.
If you're not already familiar with the term, a Definable Feature of Work (DFOW) is what you might think of as a construction task.
The Corps of Engineers describes a DFOW as a task that is separate and distinct from other tasks and has control requirements and work crews unique to that task. A DFOW is identified by different trades or disciplines and is an item or activity on the construction schedule.1 So, for example, excavation, electrical, concrete, roofing, mechanical, HVAC, etc. are all Definable Features of Work.

When it comes to deciding on your DFOW, you'll want to define your features narrowly enough to ensure adequate quality controls, yet, not so narrowly that you cause yourself a lot of unnecessary work.
Keep in mind that for each definable feature, you'll be required to perform the Three Phases of Control, which means you'll be performing a series of planning, inspection, and record keeping procedures for each.

The following steps will help you find the right balance for your Definable Features of Work.
Step One
Start by including one DFOW for each specification in the CSI construction specifications section of your contract e.g. 03 30 00 Cast-In-Place Concrete.
For example, each

checked line item below should be a separate Definable Feature of Work.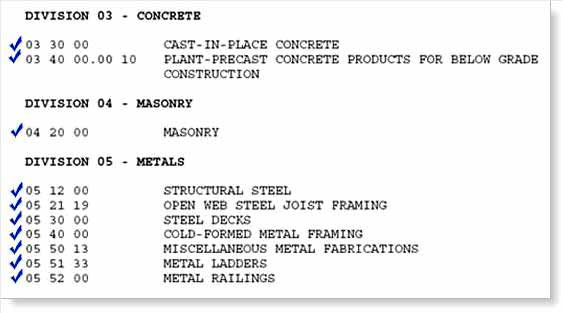 Step Two
Next, add to or replace general category tasks with tasks that meet the following criteria:
It requires quality controls such as inspections
It has trades, work crews, or disciplines unique to that task
It is a critical path activity on the schedule
It is monitored by a QC Specialist or specialty inspection personnel
For Example, in place of the general category Cast-In-Place Concrete, you would add the following to your DFOW list:

Concrete Form Work and Placing Reinforcement

Placing Concrete, Finishing, and Curing
By following these steps, the process of deciding on your definable features of work will become much more clear-cut and straightforward. As with most things, experience makes the best teacher.
1 USACE-NAVFAC-AFCESA-NASA_Quality_Control_Requirements_UFGS-01_45_02.pdf