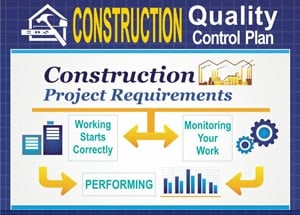 The USACE Three phases of control should be performed for each defined feature of work (DFOW). Phase 1: Preparatory Phase is the planning phase for controlling quality on an upcoming feature of work. It includes a requirements review, site inspection, and a preparatory meeting.
Phase 2: Initial Phase occurs when crews are ready to start work on each feature of work. The initial phase includes two inspections. The first is an initial job-ready inspection done before work begins to ensure that work activities begin only when they should begin. Job-ready quality inspections verify that conditions conform to the project quality requirements.
The second initial phase inspection is a work in process inspection done when the first representative portion of a work activity is completed. Initial Phase Inspections are performed before work starts and shortly after work has begun.
Phase 3: Follow-up Phase is for work in process inspections to assure that work conforms to quality project requirements and continues only when it does not adversely impact quality results.
We've developed an Infographic as a visual depiction of each phase of control. For more indepth information, read my blog article, here.

Want to display this infographic on your site?
Copy and Paste the code below into the HTML area of your website.